A few weeks of my stay in London with trips confined to office, bank, Hounslow high street and back to our serviced apartment, I said "Enough of suppressing the Travelaholism in me". So, Around 5 days before Christmas, we just packed one little sky bag n walked out of our apartment with Scotttish determination on our faces to go backpacking to The heart of Scotland.
Haa! Finally there we were- not in Scotland, in Waterloo station of London. Instead of touring a Museum filled City, Hubby n me had chosen a quiet little hamlet named Fort William- way above Glasgow in the map. After a lot of "asking around", we finally bought bus tickets that left in the evening and reached Glasgow at 2 am. I am mentioning the time becoz, in London and most of England everything starting from malls to cafes to restaurants shuts down at 7 pm sharp owing to the harsh winter; only the central tourist areas are open and alive all night. The adventurous us climbed into the bus with "Raat ke 2 baje jo hoga so Dekha jaayega" attitude. I must say to my fellow travel freaks, that bus rides in U.K. are a feast to our tourist senses.
So the bus goes up n up through smooth highways in the dark of the night, stops at 12 am in Manchester at a food court that served piping hot soup, succulent steak, dainty sandwiches n creamy spongy cakes with Hot Chocolate. Back in the bus, 3 hrs later it's stops for good at the Glasgow bus station. As other passengers went their respective ways, we were left standing outside the bus station in 2 degree Celsius temperature with not a single soul around. The next 2 hrs in the dead of the night were spent strolling up n down in the bus depot n rubbing our hands to keep warm. As the temperatures dipped to 1 degree n below, we took our suitcases n walked down to Buchanan train station in search of some warmth n hot food (I was actually starting to feel like that destitute Match Girl from fairy tales). As we entered the hustley bustley train station with its passengers, cafes, corner shops n station masters; I felt like I have entered into a Victorian era street. Dimly lit with a Victorian Clock, warm, with old fashioned bakeries and cafes despite all the modern LED digital display boards and announcements and conventionally dressed ppl- it was like the Parisian train station from the film "Hugo". Well! We settled down at a French Cafe n hungrily devoured the entire experience of their sinful velvety hot chocolate warming our bodies as it streamed down our cold throats, and their fresh out of the oven hot buttery flaky crossiants complementing the after taste of that hot chocolate. After this Sumptous and satiating snack, we got up and walked back to our bus station which was open by now. Two tickets to the legendary town of Fort William n we were on board for a 7 am bus.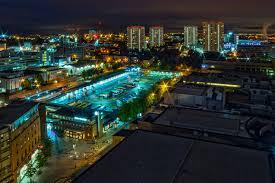 This ride was a little on the rickety and snakey side as the bus climbed up into the high mountains; n as the brown n green landscape changed into pristine white snow clad dense forests with raindeers and big Moose lazily grazing and staring at our bus. This was probably the best bus ride in my life. We passed small villages and houses with their thatched roofs clad and buried in snow; their Christmas decorations standing out, adding a festive colour and complementing the plain white of the snow as fresh flakes of snow lazily fell on them.
At around 10 in the morning, two tired souls finally got off the Fort William bus station. Now again, we were clueless about what to do and how to reach our Bed n Breakfast hotel, when an Asian walked up to us and asked us if we needed a cab ride. Our cabbie was Yusuf - rechristened Joseph, quite a friendly Bangladeshi and a voracious talker. As we passed the lush grazing fields lined with sturdy wooden fences; we saw fat fluffy sheep huddled in the centre of these fields, while furry cuddly cows with thick long fur fringes on their faces and horns chewed cud giving us a bored look through those luscious fringes and eyelashes. Yusuf dropped us at our bed and breakfast which was out side the city right in front of the Ben Nevis Mountain and in the middle of a dense forest. Winters are too harsh in this part of the country, so no tourists were there except for skii enthusiasts. Our room was a cozy attic room in a little cottage amidst the woods; while one slant window opened to a view of the giant snowy Ben Nevis mountains, the other opened into a dark n dense forest infested with pine martins n red foxes skulking and flitting around the tall fir, pine n spruce trees. The most delightful part of this place was its extensive library filled with books on ancient Scottish history predating most of the other tribes such as the Britons.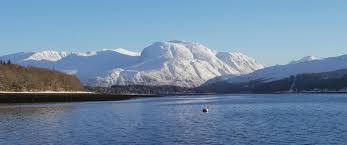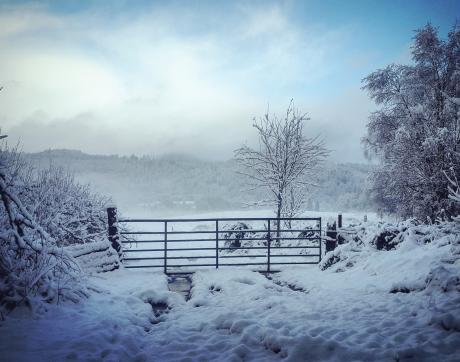 Named after Prince William the Duke of Cumberbatch, Fort William is known as the gateway to Northern Scotland which is full of Lakes (known as Loch in Scottish). The town's major claim to fame (despite all the breweries and Pictish Scottish history) is it's filming location for the film "Braveheart". We were there for only 2 days, so our first trip was to the Nevis range which was walking distance from our hotel, but the ice on the road won't let us walk, so our hotel owner dropped us off at the foothills of the Nevis range. Ben Nevis is the tallest mountain in Scottish highlands which is mostly frequented by ski enthusiasts in the winter and trekking enthusiastic old locals ( we met a 70 something old man who had taken 13 days to Trek up to the mountain with all his camping gear). It is equipped with a sturdy cable car system to ferry visitors to the top of the mountain. Passing a little coffee shop to the cable car ticket counter we watched a heavy traffic of skier cascading and manouvering down the pearly white mountain slope. A 30 minute ride and we were at the top. We savoured the visual feast of the satin sheeny snow as the sun went down n skiiers packed up their gears. Even at the top of the mountain in the middle of nowhere, was another Cafe- warm n cozy, serving hot chocolate, pancakes n sandwiches. A nice warm meal, some playful snowball fight and a few photo clicks, we were ready to head back to our hotel and call it a day. In the night, I sat by the window reading about ancient Pictish tribe of Scotland and their warriors; looking out at the proud Ben Nevis under a starry winter sky, I realised that the Scottish civilisation has its own distinct cultural heritage and legacy as the most ancient tribe of England, something that the Scots are fiercely proud of.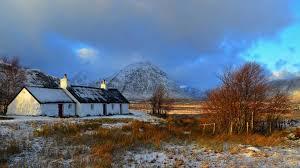 Next morning as Yusuf drove us past the Braveheart Village and the Saint Andrew Church, all I could think of was those passionate Scottish warrior and revolutionaries bravely fighting and losing those many battles for their land and cultural identity. Skipping the Ben Nevis Distillery, we paid a visit to the Commando memorial , built when this town was the training centre for the Royal Navy forces during World War 2.
An hour on the road with Yusuf's non stop Chatter, we landed in Fort Augustus- the home to the famous or rather the infamous Loch Ness Monster. Walking down to the boat jetty of Loch Ness, we soaked in yet another Christmas "Post card picture" of an old stone chapel and a few cottages decorated with mistletoes, lights and hearths in the middle of a snow clad forest on the rim of the Loch Ness. We got into a boat that toured us through the Loch Ness lake; as we sipped on hot coffee listening to our guide giving us a descriptive history of the the notorious Loch Ness monster who is known to have devoured cattle and scared villagers in the area till it was finally subdued by Saint Colomba. This part of Scotland is also home to the world famous Omega 3 rich Scottish salmon.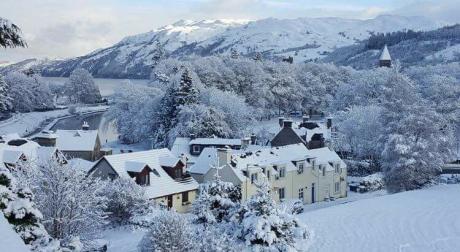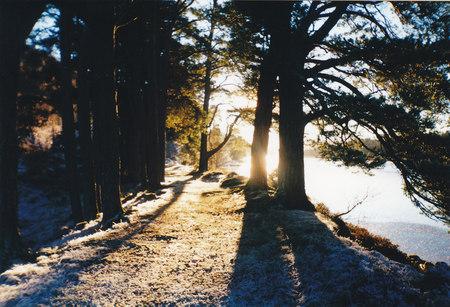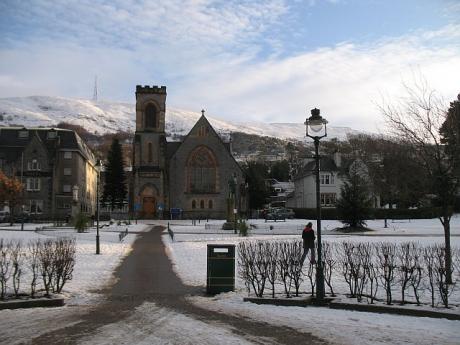 A day spent in listening to ancient Scottish legends of Loch Ness monster, we decided to head back to Fort William with heavy hearts as it was our last day in Fort William. A long wait at the bus stop in -3 degrees Celsius topped with snowfall chased us to the nearest cafe on the edge of Loch Ness. Listening to Christmas carols, we relished our hot chocolate and sandwiches served by a cheerful waiter as snow flakes floated down through the dark night n gently settled on the glass panes of the windows. As yet another long starry night approached us, we both wished that this long night should probably never end and we should never have to go back.
The next morning, sulkily we checked out. Passing by the cheerful and warm "small towners" of Fort William as they shot us crinkly wrinkly smiles, we reached our bus stop, reluctantly got into the bus and longingly stared at the crystal clear calm and serene waters of Loch Linhe, a lake which didn't seem to end till around 20 kms outside the town along with those bored furry fringey Scottish cows grazing around the greens amidst the snow.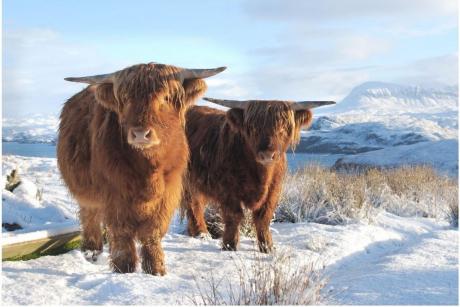 Today, when I look back at this trip, I wish I had just stayed back in that little town, and lost myself amidst those simple farmers, bakers and trekkers (who give Fort William its character) and let the ambition and achievement go to hell.