"In all things of nature there is something of the marvellous" –Aristotle
Marvellous it was indeed –the sight of olive groves on arid rocky grey-white hill slopes, drinking in bright sunlight; with the Agean sea gleaming its sparkling blue beyond the coast at one end. while at the other end the landscape transitioned into dainty white and pastel houses along with rows of Lego-like white windmills.I was landing on the land of "Never Ending summer". I do know that Cyprus has been bestowed with this title, but it just felt right for the Hellas/Hellenic Republic too…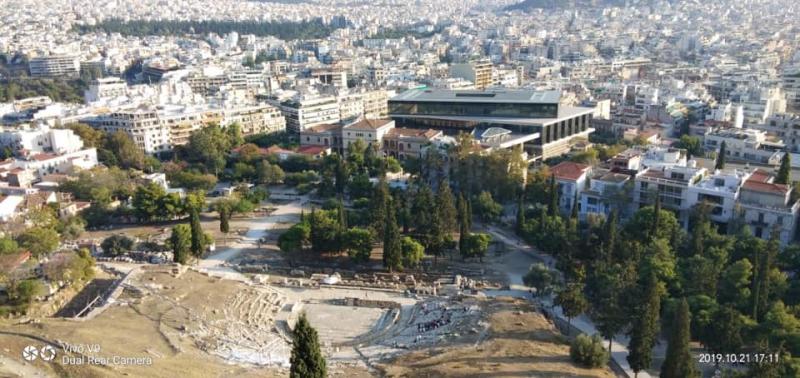 It seemed quite unlikely for me to go on a family holiday with my parents to the Romantic and exotic Greece leaving my husband behind. For a perpetually travel starved person like me, this was yet another destination waiting to be explored and needing to be experienced beyond the laid back luxury resorts, vineyards and romantic sunsets. Greece was so much beyond the whitewashed cubic-cave houses, blue domes and bluer seas with it's merry laid back people who love their food and wine. It was the land where the story of democracy began… Where the very concept of Metropolis was born….It was the land of thinkers who fathered Philosophy, history, Politics and Governance in the West…. The land that gave Olympics to the world. It was the ancient epicentre of many recorded historical events…. Greece was a Geo-political milestone in itself leaving behind a trail of legacies through its culture, art, thinkers, politicians, kingdoms and kings. It was the land from where rose one of the greatest conquerors of all times- Alexander. Or rather as Henry Miller once said.. "Greece is the home of the Gods; they may have died but their presence still makes itself felt…."
The Athens airport seemed like a minor airport by the sheer layout, interiors and ambience of it- neat and clean yet very basic. After a quick baggage pickup, as we walked out to the exit, we spotted our chauffer Micheal. 

Holding our name placard in his left hand, Micheal, held out his right hand to greet us flashing a genuine and warm smile while saying "Welcome to Greece". This is how "My Big Fat Greek Family Holiday" began. And our first stop in this 11 day long vacation was the city blessed by Athena herself – Athens.
Athens has been a prominent city in the western civilizations since the 1st century BC or rather as many historians say, it was the eye of Greece. In ancient times, when Athena-the Goddess of Wisdom and Battle Strategy competed with Poseidon-the God of Seas to be the ruling deity of this city; each of them offered a unique gift to the people of this city to win their favor. Poseidon struck his trident into the ground, and out sprung a fountain of salty water. While Athena struck her spear, and out sprung an Olive Tree from the barren rocky land. The people under their ruler Cecrops were grateful for this gift of olive and hence named their city after Athena.
Our 30 minute journey from the airport to the hotel was quite entertaining as Micheal and me chatted about Greek culture, driving past olive groves. Olive tree has been considered since ancient times as a symbol of peace and prosperity and a blessing of Athena herself. Our hotel was a kilometre away from the City Centre-Syntagma Square, with our room balcony giving us a clear view of the Parliament (known as Syntagma in Greek) with all the roads and streets branching out of the Syntagma Square.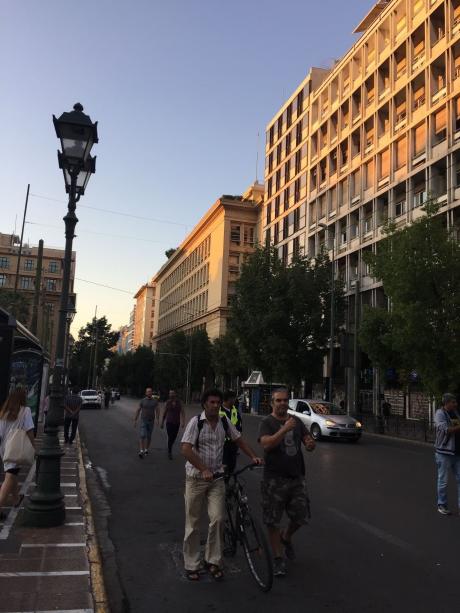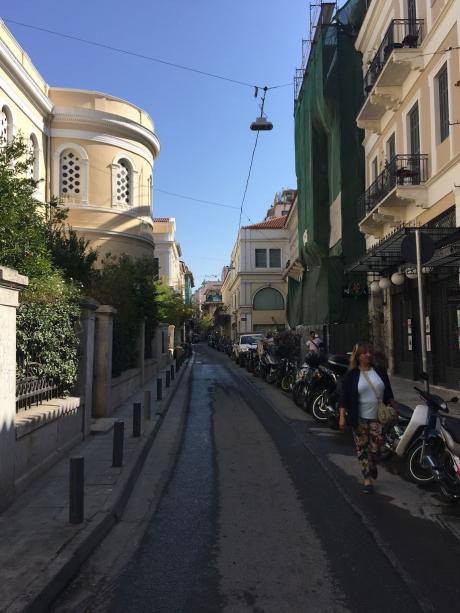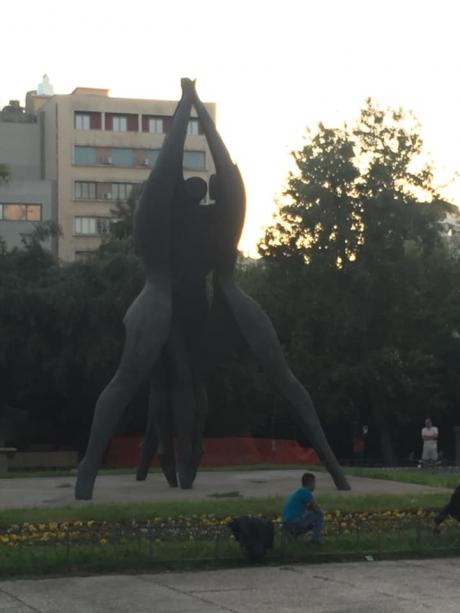 Our first evening was supposed to be a guided night tour of Athens which was not due for the next couple of hours. Jet lag clubbed with an 8 hour lay over at Abu Dhabi airport were not enough to mar our energy and enthusiasm to check out Athens First hand. Moreover this was the first "Non-Thomas Cook"  "non-group" holiday for my sceptical parents and I wanted them to experience the joys of exploring on their own. Hence, while my Parents freshened up and lounged on the balcony, idly watching the streets below them bustle and unbustle; I quickly went down to the nearest bakery and picked up some locally made Tiropita, Spanakopita and a variety of Sesame sweet-savoury Bagels. I had done a thorough food research beforehand to give my Parents the best of Greek cuisine and culture. Mummy was very sceptical of the "Veg/Non-veg" issue while Papa wanted to stick to good old Desi Khana, but then one bite of the Tiropita had them asking for more with Mummy excitedly munching the Nutella Bagels. A pie made of thin flaky layers of Phylo sheets filled with sumptuous amounts of savoury cream cheese baked to golden crusty perfection-Tiropita is probably Greece's National snack; along with its Spinach and cream cheese filled sibling Spanakopita tagging behind in popularity. As for Bagels, I have had bagels in other parts of the world, but nothing to match the savoury and sweet variants sold from the road side carts here. Nutella and Maple Cinnamon are the two most popular sweet Bagels which Mummy grew extremely fond of, but my personal favourite were the savoury alternatives dusted with Corn, Cheese and Sour Cream powders. One bagel from those street carts with a cup of strong robust Greek coffee while you walk down to your office; your day is made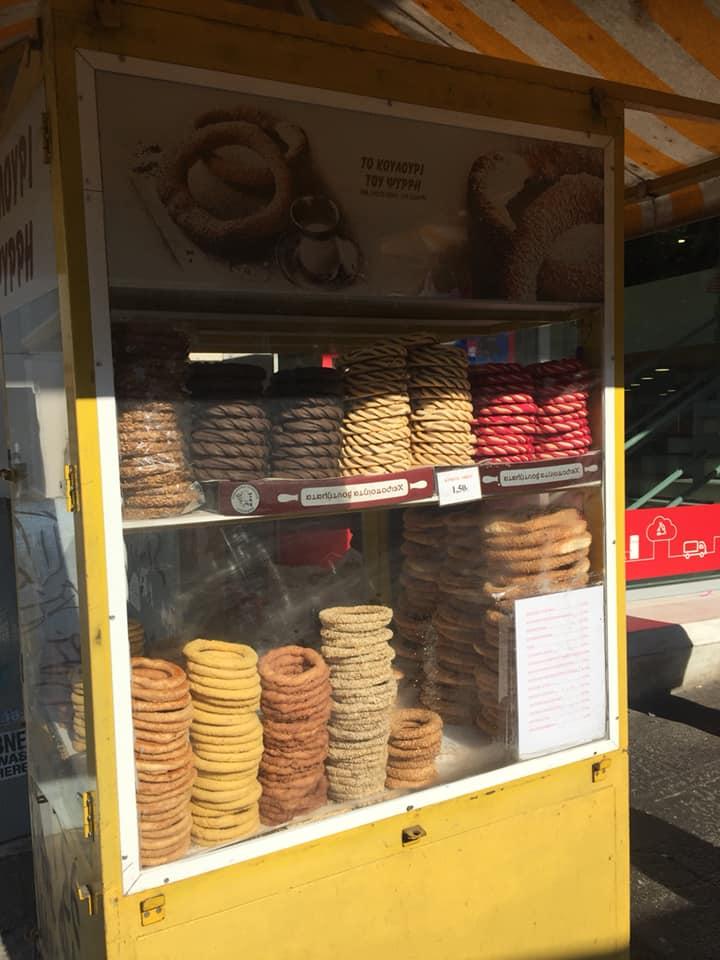 Well! then it was time to "Explore" on foot. So, I led the "Google way" to the Parliament Square/Syntagma Square with my parents tagging along obediently. Most part of the city was devoid of any heritage structures barring a few buildings like the Parliament/Syntagma and the University of Athens which were faithfully Classical Greek in style, with the Athens University prominently depicting the Greek Pantheon. Neither were there any skyrises in the city owing to the Government restricting the buildings to be built only till a certain height so that none of the buildings in the city exceeded the height of the Acropolis or restricted the view of Acropolis. The Acropolis was and still remained the highest point of the city, and from top of any building we could see the Acropolis.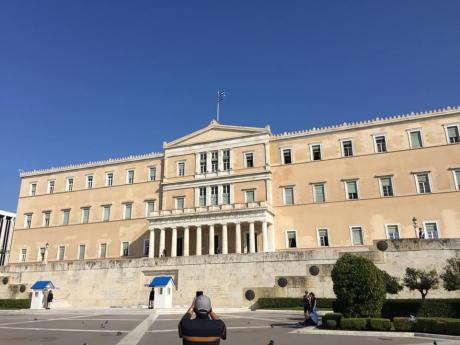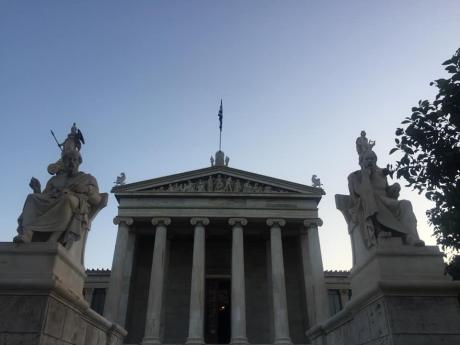 The Greek Orthodox Churches with their round domes could almost be mistaken for mosques had it not been for the Cross mounted on them; while the Pappas (Priests of the Greek Orthodox Church) robed in their black "Kalimavkions" with black caps and hats could almost pass off for Rabbis. What was most difficult to ignore were the numbers of homeless people living on the streets, including the large numbers of Kurdish and Muslim refugees who were out on the streets holding angry protests against the Turkish President Erdogan for his attacks on Syria's Kurdish region. It looked like all the weekenders and teenagers had converged and bundled into the Parliament square. At one corner of the square there was a street dance fight happening while at the other corner crowds waited with their cameras ready, to watch the ceremonial hourly "Change of Guards" at the Parliament as teenagers zoomed past through the streets on their skateboards. This is how a typical weekend looks like in the central area of Athens. On any normal weekday, the crowd would thin down to reveal a bigger crowd of souvenir shops and street carts with towering stacks of warm bagels. A good half an hour of watching two groups of teenaged street dancers acrobating it out on the stage, it was time for us to go back to our hotel and gear up for the "Athens By Night"tour.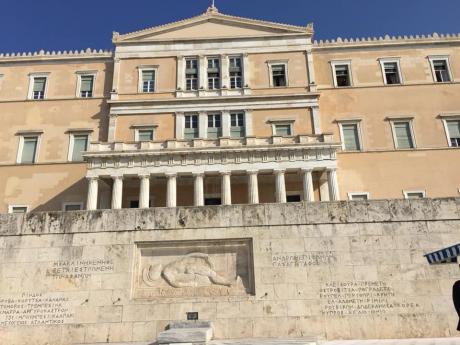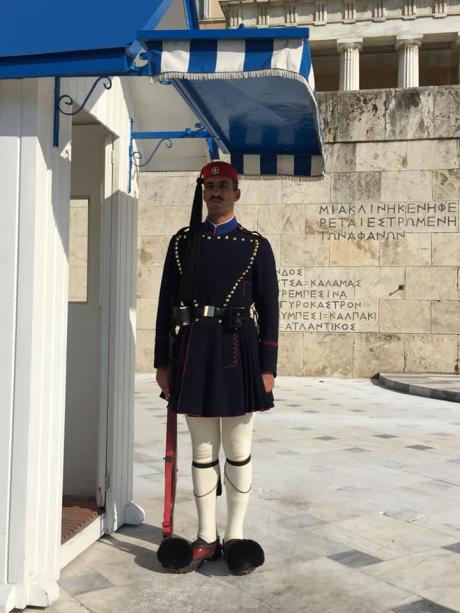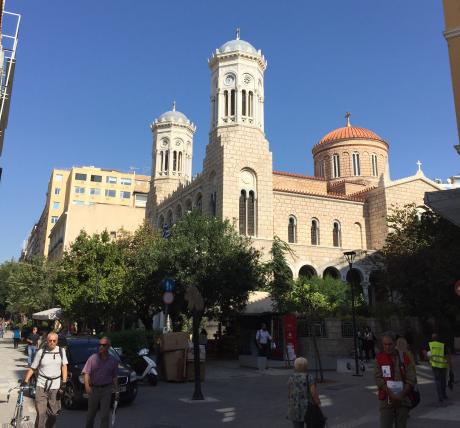 The night excursion was a whirlwind tour of all the major historical landmarks that are lavishly lit up in the nights. Passing through the Syntagma Square, we caught a fleeting glimpse of the "Change of Guards Ceremony". The Pan Athenaic Stadium stood was closed for visitors in the night, so we had to satisfy ourselves with a night shot of the well-lit stadium. While passing the famous Arch of Hadrian  we were told by our guide that it was built by the Roman Emperor Hadrian as a gateway into Athens as a Roman architectural signature on Greek soil. We did get a chance to get off our vehicle to get a good view of the Acropolis which actually looked like some sort of a Royal Fort. The tour did get interesting as we entered Plaka-the old city or rather the older part of Athens which was located right below the Acropolis.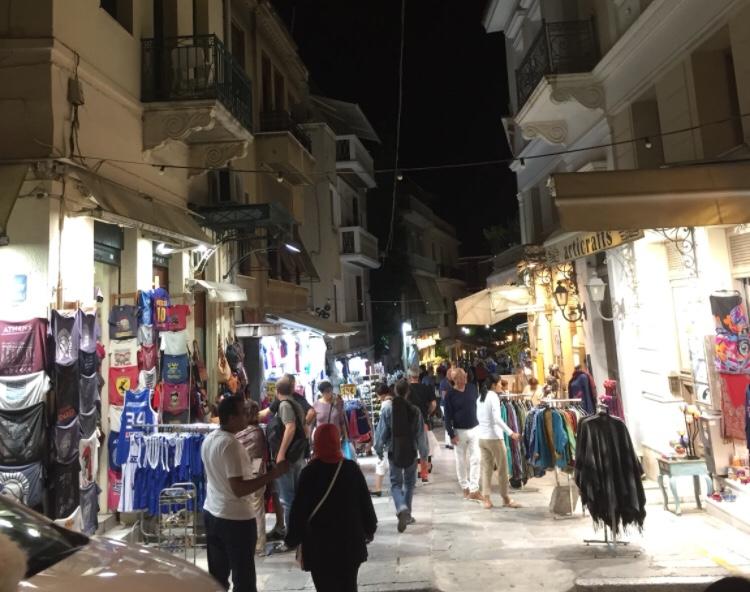 The narrow cobbled streets of Plaka were brimming with tourists, bustling with souvenir shops; and humming with open air cafes filled with people chattering through their lavish dinners whilst being entertained by local singers and musicians strumming their guitars and Buzukis. A walk through these shops and cafes led us to the line of the Tavernas-Greek Tavern, from where some very lively music could be heard. As we walked into one such Taverna to get a taste of true Greek hospitality, we found ourselves in a Medieval Era Pub. Sturdy long oak tables with robust chairs to seat the customers, jovial barmaids filling and refilling the plates and glasses; weathered woody walls showing off old shields, swords and wheels; and a stage full of performers displaying various forms of Greek dances with musicians as the audience merrily clapped to the foot tapping rhythm. All this in a dimly lit tavern with spotlights only on the performers. The next three hours were a "culture and food" trip into the heart and soul of Greece, as we were served their classic Tiropitas, rolls and plates full of Mediterranean platter along  with hummus with a their popular Star Anise flavoured alcohol-"Ouzo". 400 years of Turkish rule had not just fused Mediterranean cuisine into Greek food, but had also confluenced Turkish music with its popular Belly dance form into Greece's culture.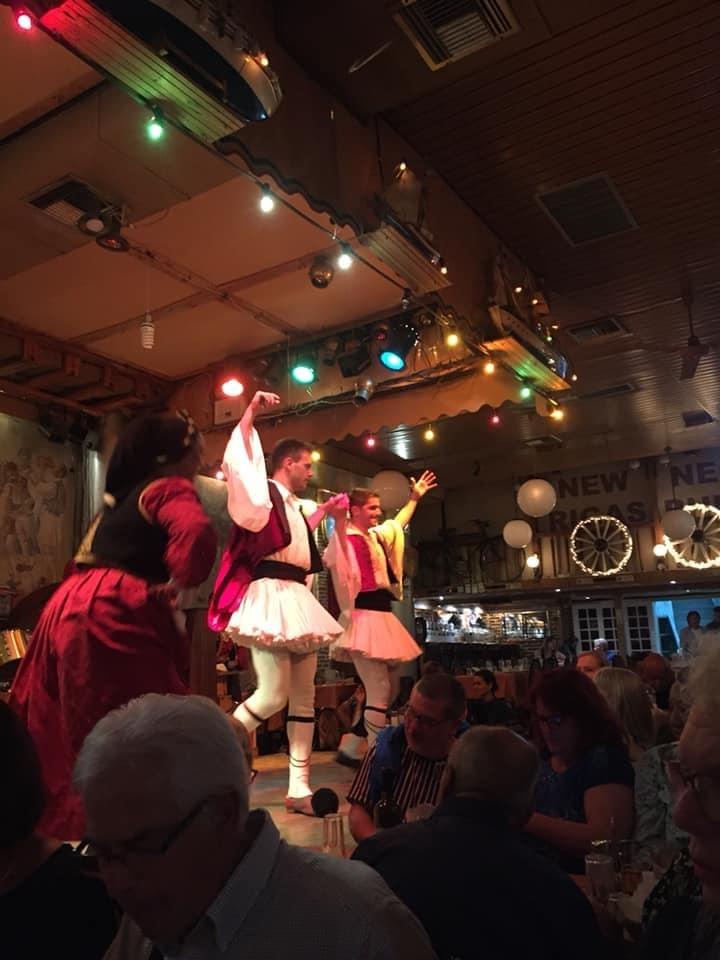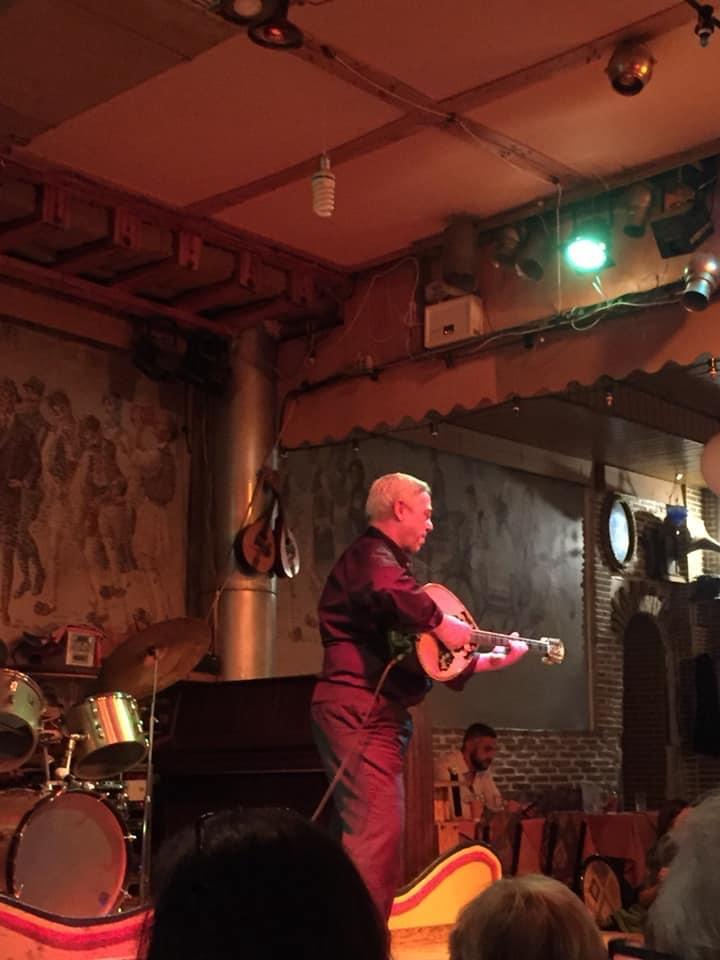 Somebody did say it right – "Party like a Greek!" And a grand party it was indeed, amidst all the music, food, laughter, alcohol and table top dancing climaxing into some impressive Buzuki performance by a senior musician. Buzuki-a long necked plucked lute is a distant cousin of the Mandolin. It is  the National musical instrument of Greece and also quite popular in Turkey.
The night ended with a lot of "Giamas" (Cheers in Greek) and "Opa"s (Wow in Greek) as we sleepily retired for the day. It was going to be a wait of atleast 7 days before I would be able to properly visit the Acropolis and explore a little more of Athens. Till then it was "Avtio Athens".