"The feeling of being lost in time and geography with months and years hazily sparkling ahead in a prospect of inconjecturable magic"---Patrick Leigh Former
It was an early morning checkout from Athens for us. We reached Pireus port before sunrise. Pireus is the local port in Athens for passenger and cargo transport. Sleepily we boarded this huge 8 storeyed ship to set sail for Mykonos. With breaking dawn started our six hour voyage into the heart of the Agean Sea. As the day brightened, we could now see several tiny rock-islands beaming their grey white into the sun, while the sea turned an opulent Sapphire Blue. It's no exaggeration, but the waters looked like an unending splash and spill of blue paint off a painter's pallete. As though any moment, Posiedon in his full celestial glory would rise with his Trident from beneath this vast expanse of shimmering sapphire. It was this sea that captivated my eyes throughout this trip. Being a mountain person, I never thought that the sea would ever fascinate me so much. Stopping over at the islands of Tinos and Siros, we got a good glimpse of their pretty pastel skyline lined up against waterfront; making an ideal seaside summer picture.
We disembarked the ship at Mykonos in the afternoon under a blazing November sun, and were soon driven to our hotel. Named after its first ruler Mykonos who was supposedly the son or grandson of the Sun God Apollo, this island has also been prominently mentioned in ancient Greek mythological texts as the battleground that hosted the battle between Zeus and the Titans. Apart from these legends, Mykonos today is the most exotic holiday destination and a party hub. If its "Party like a Greek" for the world, then for the Greeks its "Party like a Mykonian". It was a lazy afternoon drive for us as we snaked uphill into the heart of the island. Passing through clusters of little white washed cave and cubic shaped houses with bright blue doors, windows and a few domes matching the sea; we came across long stretches of rocky dry patches of land clad scantily with a few dry olive green trees and bushes.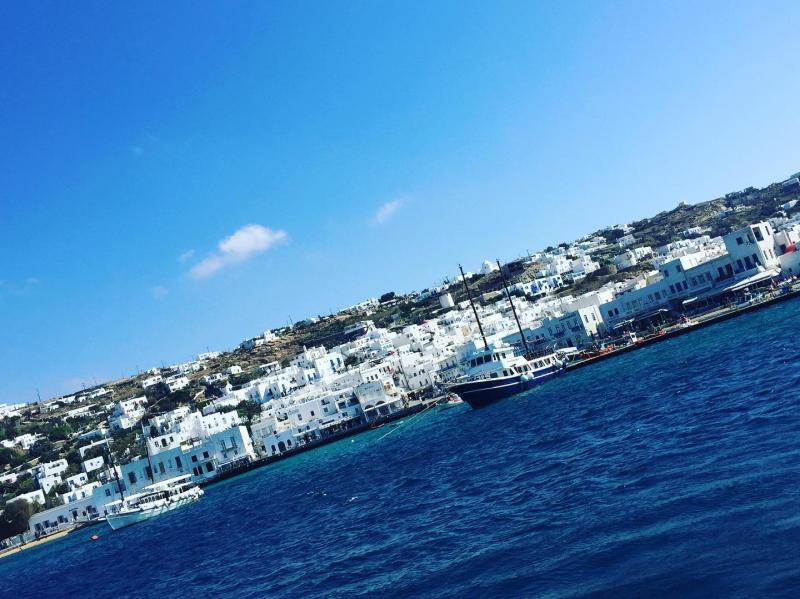 Our hotel was right on the Platys Gialos beach, and our room had a view of the hotels Mediterranean garden with a little water fountain flowing into a stream through the garden. All the rooms had their own verandas with ivy clad walls and dainty white wooden chairs and tables. We had the rest of the day to ourselves, so we quickly freshened up and set out to first pick up some bottled water from the convenience store right outside the hotel near the beach. Most of the islands in Greece have a water shortage issue, which is why none of the hotels serve complimentary packaged water nor is the tap water drinkable owing to high content of chlorine. A bit of asking around at the reception and we were told that taxis are a sort of expensive rarity in Mykonos. So the best option for us would be to take the bus or ride a rented dirt-bike to the city centre, better known as Old Mykonos from where a 500-600 meters radius would technically cover all the tourist landmarks.
We took the bus meandering downhill to Old Mykonos that was the market centre. The market place seemed to be the epicentre of all activity as compared to the rest of the island looking barely inhabited. A hive of quaint little Cycladic lanes that had arrays of the same whitewashed houses with identical blue doors, windows and stairs; selling souvinirs, trinkets and food on both sides. We even came across an automobile rental that rented out dirt bikes on an hourly basis. A good half hour of stroll through these "Instagram popular" lanes, with me obsessively clicking almost every white-blue house made us hungry. I picked up soft, and fresh out of the frying pan "Loukemades" from a nearby corner stall. Bite sized and spongy dough fritters deep fried in oil, drizzled generously with golden honey along with a sprinkle of sesame -  Loukemades were a Greek Version of doughnuts that made yet another very popular "munchworthy" snack to be had on the go. We then set out to cover all the popular tourist spots. Google map showed us the way and the locals were extra helpful. Our first stop were the 'Windmills of Kato Mili" These were a row of 15-16th Century windmills still standing on a little hill overlooking the sea which was a Turquoise shade here unlike the rest of the Agean. These mills were mostly used by wealthy families to mill wheat, whereas a few of them were under the ownership of local monasteries. They were being used till the middle of the 20th century and have till date remained an important part of the town's economy. In fact we were told that such wind mills were a common feature in most Cycladic islands, just like the Minoan cubic and cave shaped houses. Yet another highly photographed place, we enjoyed the view of these windmills as the sun slowly started sinking behind them. From these Windmills we had a good view of "Little Venice". As we walked down a few limestone steps towards "Little Venice", a small Greek Gourmet food shop caught our attention. Picking up a whole lot of local Greek organic products such as wild honey in a variety of quirky flavors, locally pickled olives, spreads, Olive jam along with some local Masticha liquor miniature bottles; we made our way towards yet another "instaworthy" and pretty "Little Venice". It was the same old single and double storey cubic brilliant white buildings with their blue doors and windows on the waterfront, with the waves delicately splashing on them. We might get tired at the repeated mention of these colours, but visually it was never tiring for us. A little ahead, right on the waterfront, there was an array of open air seaside cafes.
We sat on the pebbled waterfront, lazily watching the waves roll back and forth as the sun retired for the day and people stepped into the seaside cafes for their dinners. It was time for us to retire too. We settled down for dinner at a cosy café looking over the sea. Lacy table covers, dainty wooden chairs and tables, fine cutlery and romantic candles with fine wine and food; all under a canopy of ivy and fairy lights. Dinner was a lavish affair, as we started with Olive oil drizzled caprese bruschetta that had its crispy toasted bread complementing the soft chewey unmelted Mozzarella with sour tomatoes topped on it. Our main course included a delicately flavoured Shrimp Sphagetti giving us a taste of the Agean sea, accompanied by a rustic pungent Greek Pizza topped with Feta Cheese. A stop at a grocery store for some extra water bottle had us ogling at the tennis ball sized bright scarlet Peaches and large tomatoes and mushrooms which could almost touch the size of melons. It was quite bus ride back to our hotel in the dark and peaceful yet windy night.
The next day, we were scheduled for a visit to the island of Delos after a lavish Greek breakfast. Throughout our stay in Greece, I grew addicted to the rich and luscious Greek yogurt topped with an extravaganza of fresh fruits, dry fruits, wild honey and local made apricot and cherry jams served during breakfast . Whereas my parents became addicted to being served select Greek dishes from the buffet breakfast by me. We embarked upon our Delos trip after stuffing ourselves with some Tiropitas, Bougatsa, Olives, feta and Greek Yogurt. Bougatsas are basically a sweet and richer version of Tiropitas where the pie filling is made of semolina custard-they are a popular melt in mouth breakfast dish.
The 30 minute boat ride from old Mykonos port to the island went through the same unending spill of sapphire blue. Known for its Mystical legacy of being Apollo and Artemis's birthplace, stationed at the centre of the Cycladic archipelago; Delos was once upon a time a thriving commercial centre and an extremely revered religious site during the last few centuries closing into Anno Domini. Now, it is an uninhabited island and a World Heritage site under the UNESCO, with an archaeological office stationed on the island to restore and maintain its excavations. Legend has it that Zeus fell in love with Leto and when Leto was pregnant, she sought shelter on this barren little island stretching across an area of mere 3 kilometers to give birth to her twins. Some legends even speak of Poseidon creating this island out of a floating rock at the behest of his brother Zeus to provide a safe haven for Leto and her children. Artemis was born first in a lake and three days later she helped her mother give birth to Apollo at the same place. And hence, Delos became the sanctuary of Apllo. A palm tree still remains at the spot marking the birthplace of the twin Gods, although the lake was filled up centuries ago. Our guide Yolanda concluded this story by saying that Delos is one of the two places in the world that receive the highest amount of sunlight, the other place being Hawaii.
Leading us through the ruins of the Ancient temple of Apollo, Yolanda took us back to 3000 years ago when this island played a key role in state politics too. Despite being Apollo and Artemis's birthplace, Delians did not allow any births on the islands. Pregnant women would leave for nearby islands to deliver their babies. Pilgrims and visitors from faraway lands thronged Apollo's temple. The island witnessed a meteoric rise from a spiritual centre into a metropolis and an important trade hub, acting as the commercial gateway to Africa and Middle East in those times. Maritime traders, merchants, affluent statesmen and craftsman from as far as Phoenecia, Sumeria, Mesopotamia and Egypt settled here, bringing in with them their Gods, cultures and riches; adding vibrant colours to the cosmopolitan fabric of the island.  All this while Apollo's temple amassed the largest treasure in the realm. The same treasure that was loaned out to various kingdoms for infrastructure projects including the construction of Acropolis and Parthenon. The same treasure that was eventually drained out till the last penny bankrupting the Grand Temple and Sanctuary of Apollo. Well! The story of Delos was a long one stretching into a good 2 hour walk through a maze of ruins. We were shown wealthy mansions with their mosaic fresco floors, clever water harvesting systems, air conditioning systems, ancient refrigeration techniques to keep food fresh and the then largest slave market in the world. All this amidst a group of fluffy and furry big cats roaming in and out of the ruins with us. Emptying a can of cat food into a plastic bowl for them at a Fishermans house (supposedly-as per archaeological assumptions and evidence) within the ruins, Yolanda told us that these cats keep rats and snakes off the island and that they are fed by the local archaeologists. The Sanctuary of Apollo was the most impressive with it's stone water fountains, various extravagant heavy sculpture gifts from global patrons along with resting and canteen arrangements. Walking up to the row of white marble lions, better known as Naxian Lions, that remain a highly photographed feature of the island; we were told that they were built by the famed artisans of the nearby Naxos island as a tribute to the God. A possibility that Naxians who were very much part of the Cycladic islanders must have seen lions in Egypt to be able to sculpt them here, because lions never existed in Greece. Going through other archaeological findings of a Golden past of the island, we were told that Delos was many times attacked by pirates as it didn't have a standing defence system. This was because the locals had unshakeable faith in Apollo, believing that nobody would ever attack or harm the land  blessed by Apollo himself. There are no records of what exactly brought about the doom of Delos except that under the Roman rule, it did become a free trade port which was the last mention of the island in medieval history.
Today, Delos is has an air of an eerie tranquillity with  faint echoes of past glories. We were left to wander through this Ghost island for another half hour wherein we had the option to check out the local museum and walk to the Temple of Egyptian Goddess Iris atop a small hill. The blazing sun however dissuaded us to opt out of the latter. An hour into mid-day, we headed back to our boat to yet again sail back through the Blue Sapphire expanse.
We had the rest of the day to ourselves which was spent lazying around on the periwinkle beach of Platys Giallows, watching yatchs and boats bob up and down in the waters and listening to the vrooming of the dirt bikes. It was our last evening on the island. As Papa chose to relax on our private verandah with a can or two of Greek beer; Mummy and me drank our Masticha liquor miniatures enjoying the wind in the dark of the night, listening to the gurgling of the fountain stream in the hotel garden.